---
Sunday at Sälstationen / sauna & brunch package
Refill the batteries in the Stockholm archipelago! Book a sauna & brunch package, in the middle of nature. Experience tranquility in this unique environment, relax in a hot sauna, take a dip in the sea! Hike in the beautiful nature reserve or enjoy the inviting deck around the seal pool! Listen to an unknown side of Swedish history when we tell about the station! Enjoy a waffle brunch in Mässen, bake your waffles with wonderful archipelago views! And come back home completely rested!
Included:
– Access to sauna facility, ( with other guest or private only for your company 1 hour 45 minutes.)
– Waffles (both salty & sweet), tea and coffee.
– Guided tour of the Seal Station.
– For group bookings: Privatization of the dining room, Mässen.
– Hiking with map and recommandation.
– We clean the sauna facility between each group.
Price:Price: 445EK /adult, 225 SEK / children (3- 12 year old).
Date: Sunday 12:15-17:15, 30/04 – 18/06 and 18/08 – 03/11.

Crispy waffles that you bake yourself and enjoy with sweet and salty accessories.
---
Guided tour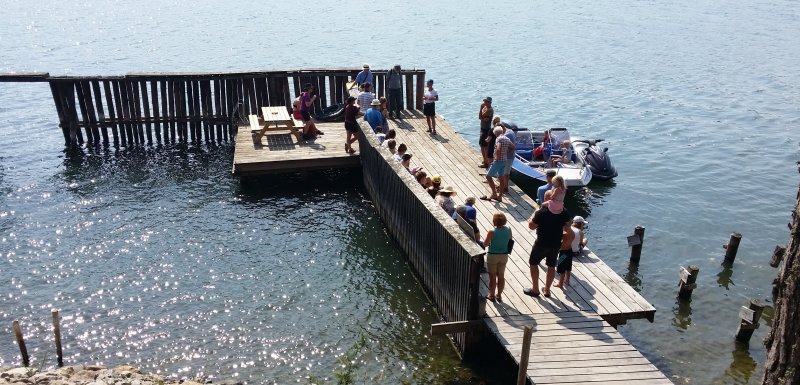 Come and discover this site, and get guided through it's history.
Bookings
Privat guided tour: contact us.
---
Excursion, hiking with children. Experience, play, and games! Book a day of activity for the whole family.

Come and hike with your children, use all your senses to experience the forest, look for animal tracks, observe insects through the magnifying glass, learn more about the Allemansrätten and much more! We meet at Sälstationen between 10 and 11:00 in the morning. You get a packed backpack with experiences and lunch. The adventure can begin! The hike is approx. 2km, has 9 stops and ends at the deck at Sälstationen. You return the backpack between 16:00 and 17:00. At each stop during the hike, you open a bag. You will find a message from Igo who invites you to play, a game to discover nature and guides you to special places! The backpack also includes everything needed to fry so cold "krabbelurer" on a trail stove. The activities in the backpack are intended for children between 3 and 12 years old with adults.

Included: map, 9 bags with activities, "krabbelurer", jam and honey, drink, trail stove, plate and cutlery.
Price: SEK 150/ adult, SEK 100/ child (3-12 years)
You can book this package on: Sundays: April 30- June 18 and August 20- November 5 (*) and as well on weekdays: 12-22/06, 26-30/06, 14-18/08

---