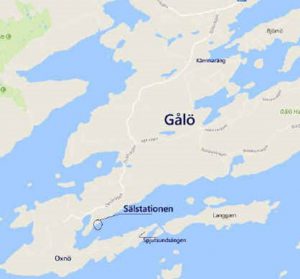 Get there
Sälstationen,
Oxnövägen 91, Gålö
By train: From Stockholm city, take a commuter train to Västerhaninge station (32min). From there, the bus N 845 to Västra Bondäng. You get off at Dyvik stop (22mn).
By car: From Stockholm center, take Nynäsvägen / road 73, heading south. Take the exit at "Jordbro trafikplats" and follow the road 227 towards Dalarö. After 9km, turn right on road 259 towards Gålö. Continue on Oxnövägen. After 6km turn left at the sign "Sälstationen". We offer free parking.
Once on place you will find large signs that tell you about the Sälstation. Follow the small signs for 300m, first on a gravel road and then on a hilly wide path in the woods leading to the station.
In the parking lot you can borrow a push cart to carry your bags.

Read more about the
site, and accomodations.
Call us: Olivier: +46 76 54 24 005 ; Isabelle: +46 73-97 04 753
Mail: info[att]salstationen.com